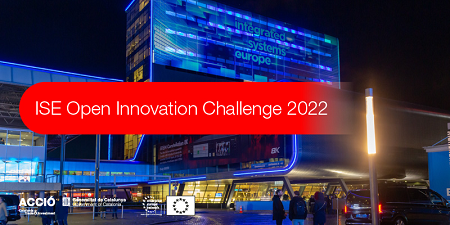 The ISE audiovisual congress will celebrate its 2nd edition in Barcelona next May (10th to 18th). It is the biggest event in Europe regarding audiovisual and integrated systems (80.000 attendees pre-Covid).
Enterprise Europe Network will organize the INNOVATION OPEN CHALLENGE in the framework of ISE congress. We have selected 8 Catalan corporations looking for new technologies/solutions and we will connect them with providers from the most innovative ecosystems. We will organize a B2B meetings event that will happen either physically or virtually in the venue of ISE congress.
Eight Catalan corporations are looking to buy in new technologies and solutions:
Sabadell City Council - Technologies for smart and sustainable tourism in the city of Sabadell
Corp. Catalana de Mitjans Audiovisuals - Looking for an innovative solution based on AI, image and text analysis or other technologies with Sustainable Development Goals (SDGs)
Corp. Catalana de Mitjans Audiovisuals - Seek an innovative solution based on Machine Learning or other technologies
ARTHUR HOLM - Software capabilities to the current product range
MEDIAPRO - Cloud Budget Planner
MEDIAPRO - NFT Secondary Market for Testing
Roca - Smart Building
Roca - Online Events
Technology providers that have the potential to help solve these challenges can now register to participate in the event and arrange physical or online meetings with the companies involved. Onsite meetings will take place at the Fira de Barcelona during ISE 2022 and all participants will receive a pass to attend ISE. Online meetings will take place on 17th and 18th May.
Please contact galacteaplus@galacteaplus.es for more information.